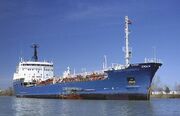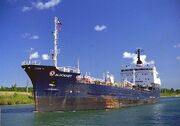 Shortly after being acquired by Algoma, the tanker entered service under her new name Algoeast. The tanker's new name continues with the corporate naming prefix "Algo" and "east" reflecting on the Canadian eastern operations of Imperial Oil.
The Algoeast arrived at Port Weller Dry Docks, St. Catharines, ON December 20, 1999 for a $5.5 million conversion to a double hulled tanker including new cargo pumping, heating, and piping systems. The tanker returned to service April 28th, 2000 proceeding in ballast to Nanticoke, ON. This was the first conversion of this type completed at the Port Weller yard.
On August 10, 2000; the Algoeast is noted to have grounded outside the deep draft portion of the Amherstburg Channel while upbound in the Detroit River bound for Sarnia, ON with bunker "C" oil. Only minor damage to the tanker's forepeak and double bottom hull was reported. Then on February 23, 2001; the Algoeast lost power and became stuck in ice one mile north of the Lake St. Clair crib light and was pushed by the ice 200' (60.96m) to 300' (91.44m) outside the shipping channel. The tanker was in ballast bound for Nanticoke at the time of the incident. Assistance and subsequent escorting was provided by the CCGS Samuel Risley. The tanker lost power and rudder control June 18, 2003 and ran soft aground in the St. Lawrence River near Vercheres, QC by straying out of the main channel. After regaining power and with the use of her bow thruster, the Algoeast was able to free her self and proceeded to Tracy, QC at a reduced speed for hull inspection. The tanker was proceeding downriver to unload at Tracy / Sorel at the time of the incident.
On June 4, 2003; the Algoeast was entered into Transport Canada's "Delegated Statutory Inspection Program" involving extensive ship audits and safety inspections by Transport Canada, Marine Safety, and Lloyds Register of Shipping. The Algoeast continues to be owned and operated by Algoma Tankers Ltd., a division of Algoma Central Corporation both of St. Catharines, ON and is managed by Algoma Central Corporation. The winter of 2006/07 saw the Algoeast trade places with fleet mate Algosea to operate out of Halifax, NS serving Imperial Oil's customers on the Canadian east coast from their Dartmouth, NS facility. The Algosea, in turn, operated on the Great Lakes from Imperial Oil's Sarnia facility.