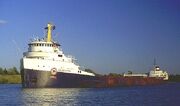 With the decision by CSL to divest of their straight deck fleet to focus on self-unloading trades in 1994, the Richelieu was sold to Algoma Central Marine and renamed Algocape (2). The "Algocape" name comes from her owner's name "Algo" (Algoma) and "cape" possibly from Cape Gargantua (located on Lake Superior's east shore).
Her cargoes consisted primarily of grain products and ore; though, she was noted to have carried bulk cement and coke. Typically, the Algocape would load grain products in Thunder Bay, Ont. for Baie Comeau, PQ; then in ballast to Sept Isles, PQ to load ore for Hamilton, ON; then in ballast back to Thunder Bay. The ports may vary slightly but the load pattern remained basically the same.
The Algocape operated throughout the 2011 season, with her last load of grain coming aboard in Thunder Bay and discharged in Port Cartier, passing down at the Soo for what proved to be the last time on December 13. After unloading she proceeded to Montreal for winter layup arriving there on December 22.
With extensive work being required to pass her next 5-year survey, she was sold for scrap and her Canadian registry closed on June 12, 2012. With her name shortened to GOC for her last voyage, stack markings painted over and a homeport of Freetown (Sierra Leone) lettered on the stern, the Algocape was pulled from Montreal on August 15 by the deep sea tug VB Artico with Ecosse on the stern, as far as Les Escoumins, bound for Aliaga Turkey. The old Richelieu was beached there on August 22, and subsequently broken up.